Bar Coaster set
Tiffany & Co. Streamerica Collection
Stainless Steel Collection / Rubber
Releassed 1993
Made in Switzerland.
Retail Price $300 US dollars.
Tiffany & Co. introduced the Streamerica collection of personal accessories and watches in 1990 to celebrate the 50th anniversary of its New York headquarters.
Tiffany & Co.'s Streamerica is inspired by the aerodynamic principles of the 1939 New York World's Fair, the Streamlined designed collection evolved from the profile of a DC-3 wing and the bolted metal sheeting of airplane construction.  Steel and Industry symbolize America's aspirations for progress and prosperity.  A Timeless expression of Man's fascination with speed and technology – and his desire to forge a better tomorrow. 
Streamerica is a ground-breaking collection. Never before has Tiffany featured steel as a luxury material, but no other material could convey such a powerful message of contemporary sophistication and masculinity.
I think this was the first item I purchased from this collection of home accesories from Tiffany & Co. because I knew I would really use these in my home.  The Streamerica Drink Coaster set is a wonderful innovative idea.  Sandwiched between two heavy metal stainless steel disks are six rubber coasters that are kind of suctioned into place by the way they interlock into one another.  The rubber coasters measure 3.6" across.  They are held in place by a vacuumed air created when pressing on the metal plates.  Feels like Iron Man's heart shield.
These were never featured in any printed catalog that I have ever come across, and they are not even in the list of accessories at the end of the Blue Streamerica Catalog that accompanied this line in 1993.  If they would have been in the catalog, I am sure they would belong to the Zephyr family of bar and home accessories from this linke, like the ashtray and unproduced? lighter. I think this makes them really rare, but I assure you if you come across this set on ebay, that it is authentic.  My set was purchased in Sept 1997 at Tiffany & Co. in Atlanta, GA for $300.  I honestly have used these coasters every day since then.  They will truly provide pleasure to the user for many years to come and they will guarantee an interesting conversation next time you have guests over for drinks.
They are marked Switzerland in very small engraving on the bottom disk.
Detailed Photos of Streamerica Barware Coaster set.
Sideview of Coaster set when closed, stainless steel lid and bottom hold and suction the six rubber coasters.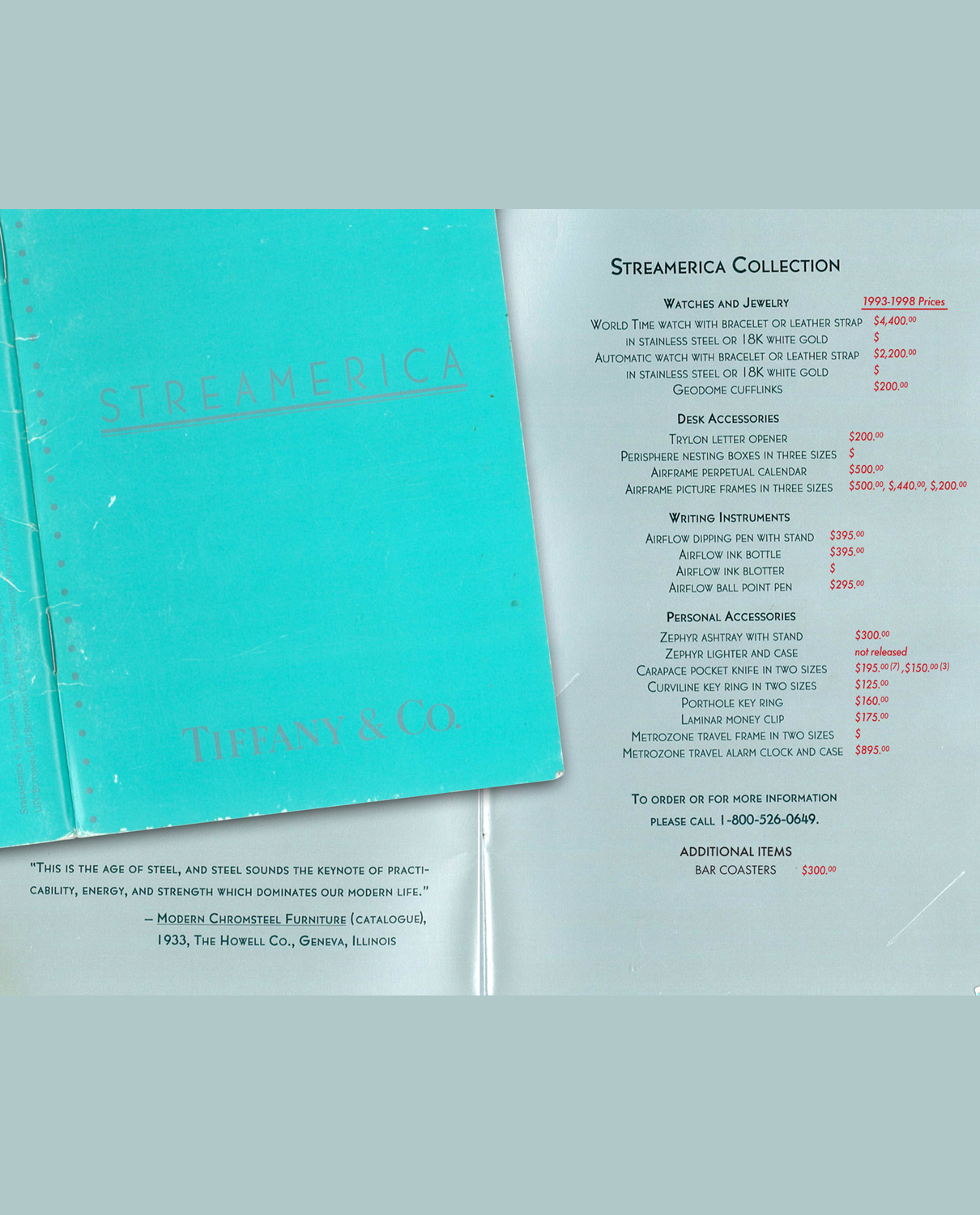 Last Page from Blue Book Tiffany's Catalog showcasing the 1993 Stainless Steel line.  I Photoshoped the red prices and added an additional item Bar Coasters since they were not listed here.  Since then I have only found one piece that was not pictured in any catalog, the Desk Calendar from the Airframe series.
Each piece in the Streamerica line is designed to complement each other to form a cohesive statement in stainless steel. These accesories are meant to be used everyday to the users enjoyment.