Laminar Money Clip
Tiffany & Co. Streamerica Collection
Stainless Steel Collection
Releassed 1993
Made in Switzerland.
Retail Price $175 US dollars.
Tiffany & Co. introduced the Streamerica collection of personal accessories and watches in 1990 to celebrate the 50th anniversary of its New York headquarters.
Tiffany & Co.'s Streamerica is inspired by the aerodynamic principles of the 1939 New York World's Fair, the Streamlined designed collection evolved from the profile of a DC-3 wing and the bolted metal sheeting of airplane construction.  Steel and Industry symbolize America's aspirations for progress and prosperity.  A Timeless expression of Man's fascination with speed and technology – and his desire to forge a better tomorrow. 
Streamerica is a ground-breaking collection. Never before has Tiffany featured steel as a luxury material, but no other material could convey such a powerful message of contemporary sophistication and masculinity.
The Streamerica Laminar Money Clip has a distinct, harder edge look with its wing shaped point that tightly grips your money bills.  Made in Switzerland out of high grade Stainless Steel like the rest of the collection.
It is engraved on the top part, Tiffany & Co. and has the classic streamerica rivets and lines laser engraved into both top and bottom part.  
Detailed Photos of Streamerica Laminar Money Clip.
Each piece in the Streamerica line is designed to complement each other to form a cohesive statement in stainless steel. These accesories are meant to be used everyday to the users enjoyment.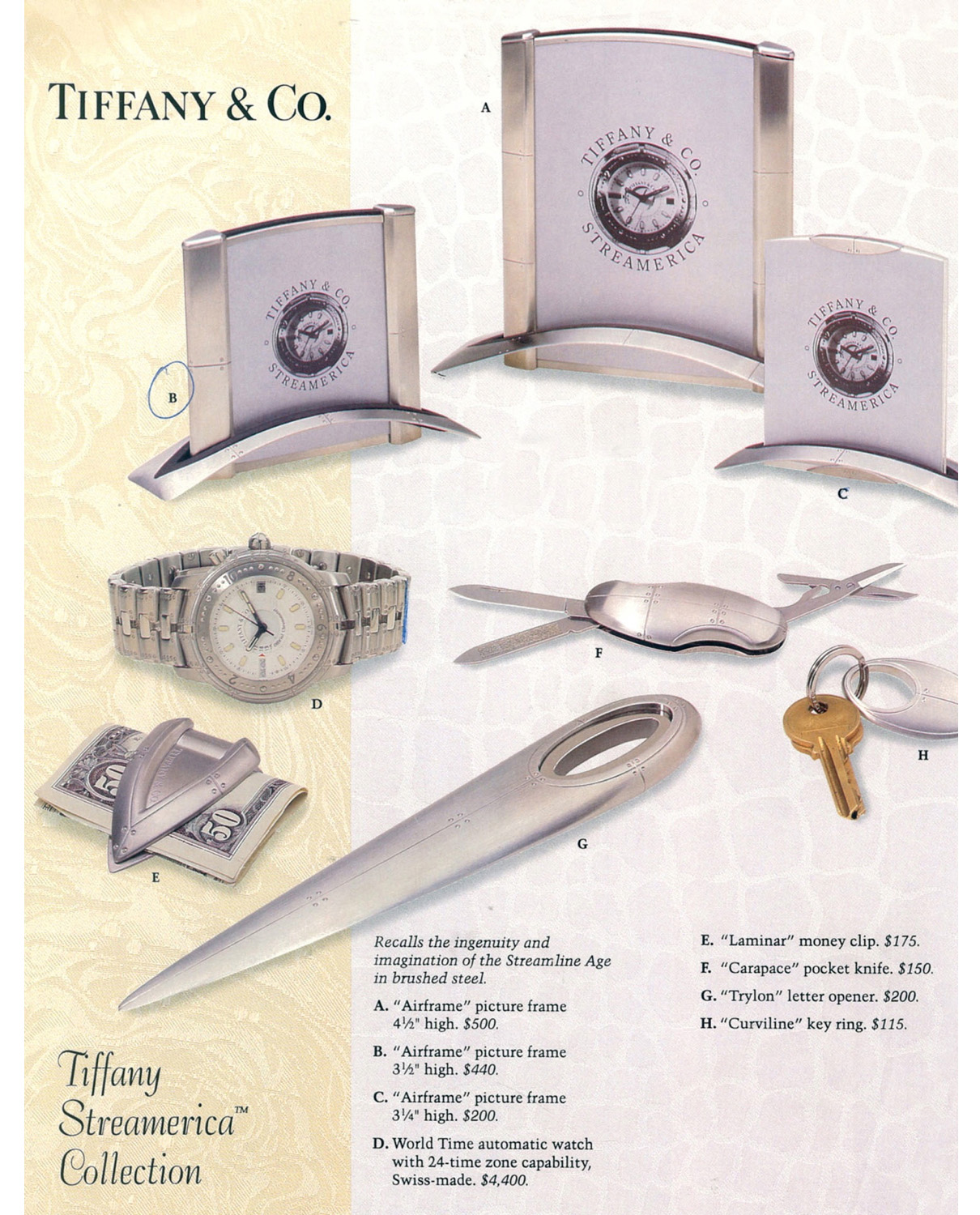 Page from a Yamrun jewelers catalog showcasing the Tiffany Streamerica Collection in 1993 in Stainless Steel.  Pictured here are the Airframe Picture Frames, The World Time Automatic Watch in all stainless steel, a smaller Carapace Pocket Knife, Laminar Money Clip, Trylon Letter Opener, and Curviline Key Ring, all with 1993 prices.