Airflow Ink Blotter
Tiffany & Co. Streamerica Collection
Stainless Steel Airflow Collection
Releassed 1993
Made in Switzerland.
Retail Price $395 US dollars.
Tiffany & Co. introduced the Streamerica collection of accessories and watches in 1990 to celebrate the 50th anniversary of its New York headquarters.
Tiffany & Co.'s Streamerica is inspired by the aerodynamic principles of the 1939 New York World's Fair, the Streamlined designed collection evolved from the profile of a DC-3 wing and the bolted metal sheeting of airplane construction.  Steel and Industry symbolize America's aspirations for progress and prosperity.  A Timeless expression of Man's fascination with speed and technology – and his desire to forge a better tomorrow. 
Streamerica is a ground-breaking collection. Never before has Tiffany featured steel as a luxury material, but no other material could convey such a powerful message of contemporary sophistication and masculinity.
The Tiffany and Co. Streamerica Airflow Ink Blotter from the 1993 Collection is truly a unique piece.  Looks great on display, but I always wondered, what is it? And what is it used for?
An ink blotter is generally a rocking device that is used to absorb excess ink when one is writing with an ink dipping pen or fountain pen. It helped prevent smudges and smears on the written document.
The bottom part of this rocking device is fully lined with black rubber material that absorbs the ink from the paper as you are writing with your ink pen.  It also came with the round Tiffany Blue sticker that says Made in Switzerland.
Detailed Photos of Streamerica Airflow Ink Blotter.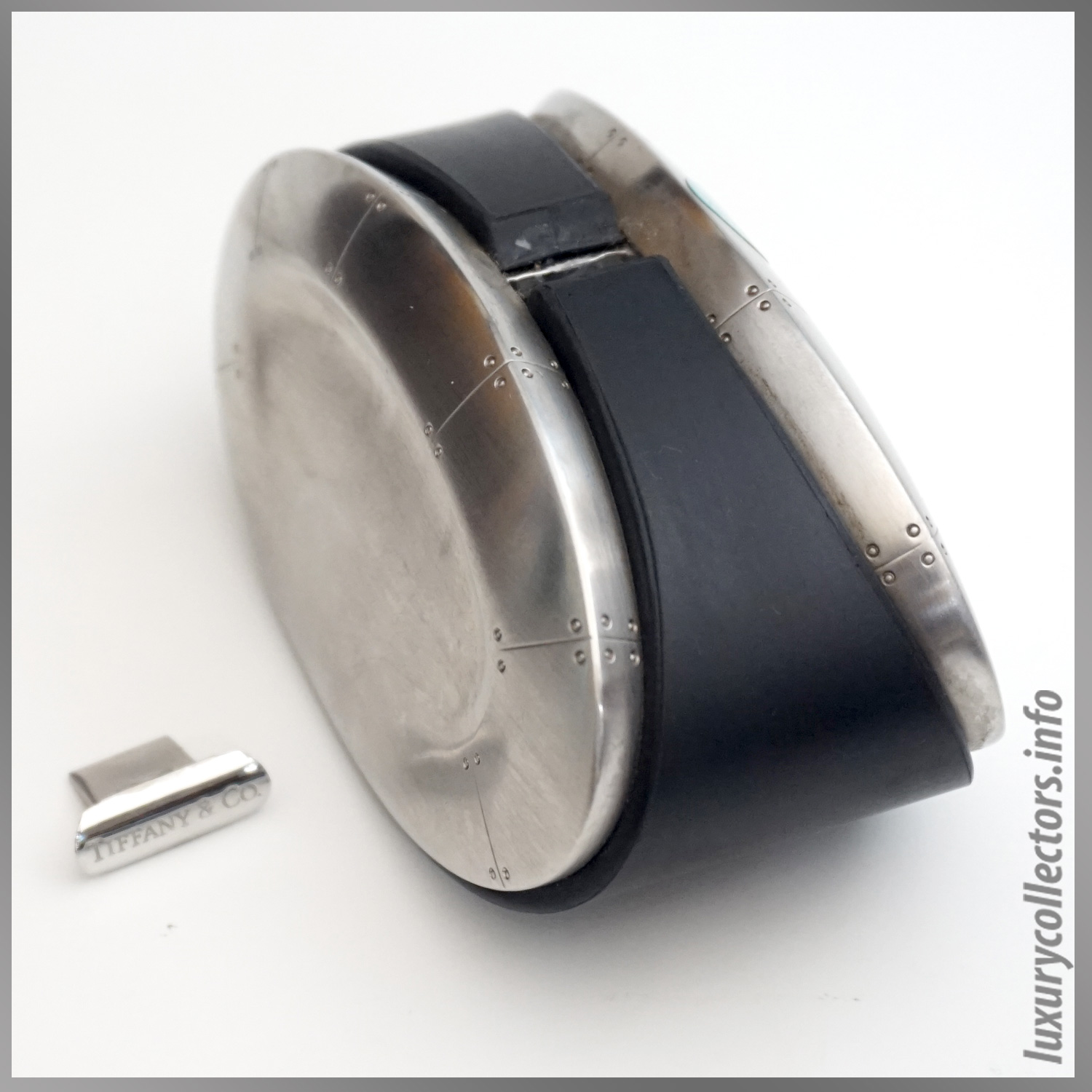 This removable clip is loosely placed on the top part of the blotter, maybe to keep the rubber piece in place.
Each piece in the Streamerica line is designed to complement each other to form a cohesive statement in stainless steel. The Ink Blotter is part of the Airflow writing set that includes an Ink Dipping Pen and Ink well or bottle.