World Time Automatic Watch
Tiffany & Co. Streamerica Collection
Stainless Steel Wristband / Leather.
Distinctive "City" Dial at 9'oclock.
Released 1993
Swiss, Made in Switzerland.
Retail Price $4,400 US dollars (All Steel).
Retail Price $3,330 US dollars (Leather Band).
Tiffany & Co. introduced the Streamerica collection of personal accessories and watches in 1990 to celebrate the 50th anniversary of its New York headquarters.
Tiffany & Co.'s Streamerica is inspired by the aerodynamic principles of the 1939 New York World's Fair, the Streamlined designed collection evolved from the profile of a DC-3 wing and the bolted metal sheeting of airplane construction.  Steel and Industry symbolize America's aspirations for progress and prosperity.  A Timeless expression of Man's fascination with speed and technology – and his desire to forge a better tomorrow. 
The crown jewel of Tiffany & Co.'s Streamerica collection is the Automatic World Time Watch with stainless steel band.  I think this was the original piece in this collection since its part of what Tiffany does best, watches, after fine jewelry.  This design is also the main piece credited to designer Jorg Hysek. Jorg Hysek is a designer that in the past has done watches for Cartier, Boucheron, Kirium for Tag Heuer, and now for his own brand.
The dramatic centerpiece of the Streamerica collection is the World Time Watch.  Encased in rugged stainless steel with a crown that resembles the nose of a bullet train. "the watch is a modern interpretation of the Streamline Era's sense of speed and aventure."
This World Timer Automatic Watch has an innovative method of displaying a second time for any of the 24 time zone cities that it has on its window dial, while the third dial tells you the time in that time zone at a touch of a button.  Additional Technical specifications:
Certified Chronometer

The case is 40mm wide, which make it more a medium to large size watch.  

Case is water resistant to 5 atm.  

Scratch-resistant saphire crystal

Screwed-down crown

Rotating bezel

Tritium hands and markers that illuminate in the dark to read the hour.
It was also produced as a regular Automatic watch without the world time function (but with a Certified Chronometer), which can be seen in the photos that do not have the City and Second Time dials.  It was also produced with a leather band with steel deployable buckle.  The 18K model is supposed to have come in all three variations, but I have only seen once a photo of it on ebay and it was 18K white gold case with leather band.
The Automatic Watch retailed for $2,200 with the leather or all steel band.  $4,400 for the Automatic World time watch in all steel or in leather.   Both watches were produced to exacting standards at the Tiffany Watch Center in Lussy-Sur-Morges, Switzerland.  The mechanisms wind automatically by the normal movement of the wearer's wrist.  Although rare, these can be regularly found on ebay and I highly recommend these watches.  They are elegant, comfortable to wear and look amazing.  They are a sound investment.  My all steel world timer works like new, even after 24 years.  

Detailed Photos of Streamerica World Time Automatic Watch.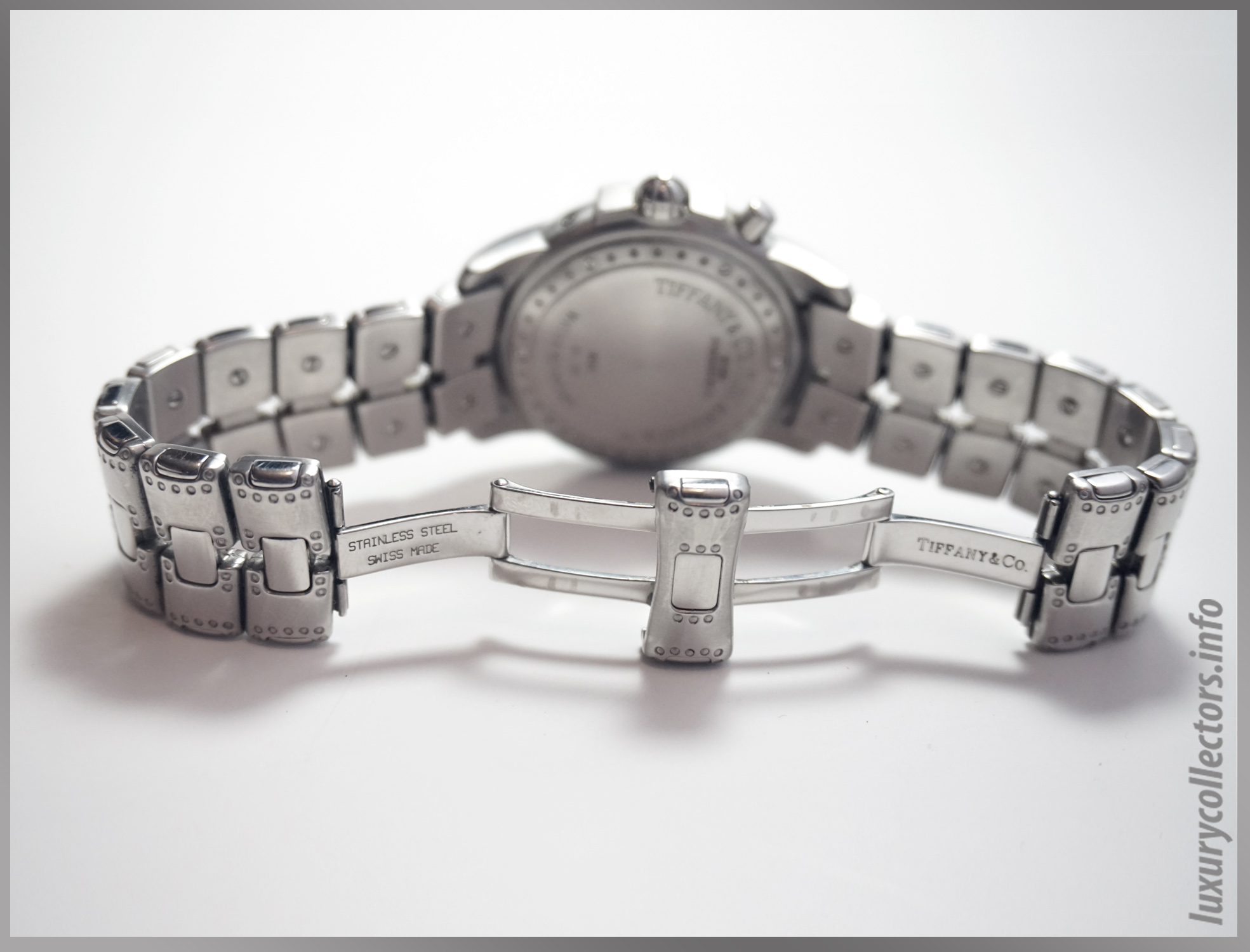 Backview of Automatic Chronometer Wristwatch with Leather band and deployable buckle. Marked in Case: Stainless Steel, Swiss Made.  Tiffany & Co.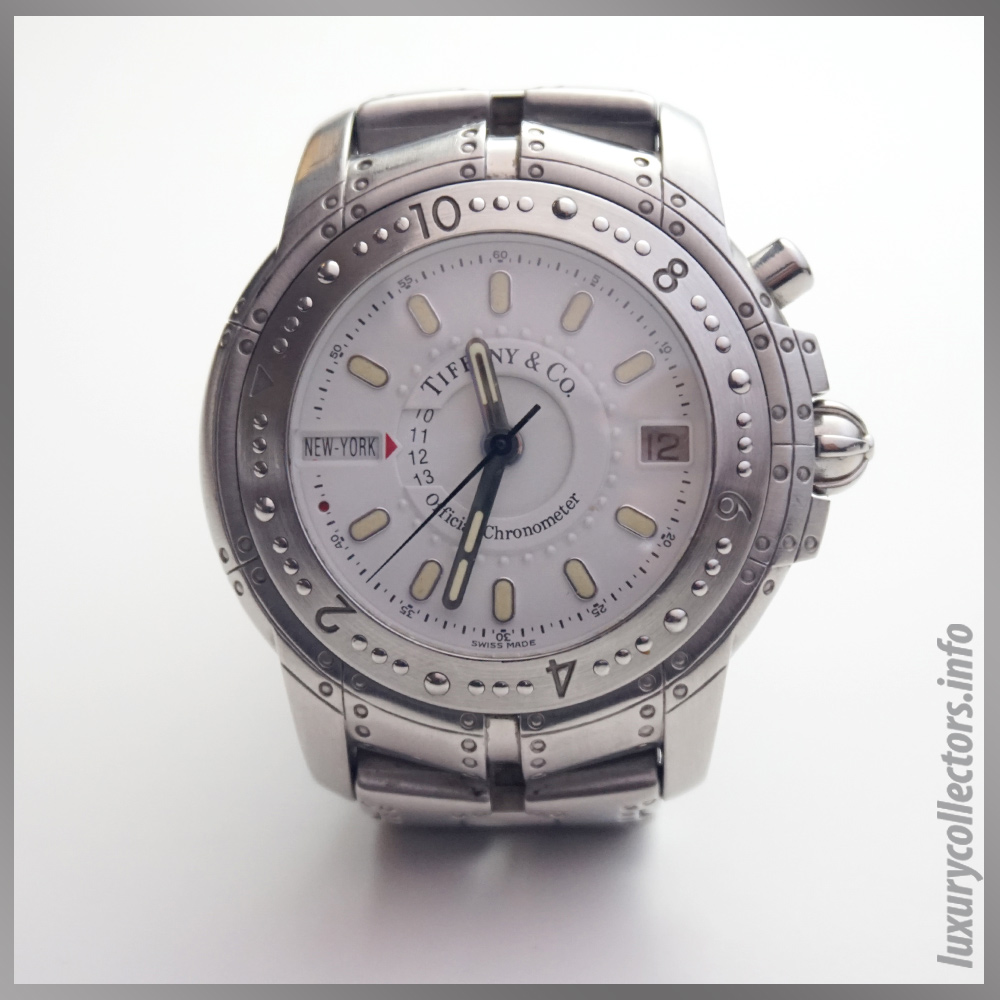 Front view of the white dial face of the Streamerica World Time Automatic Chronometer Watch.  Tritium hands and markers illuminate when dark.
Variations of the Streamerica Automatic Watch.
Advertisements of the Automatic World Timer Watch.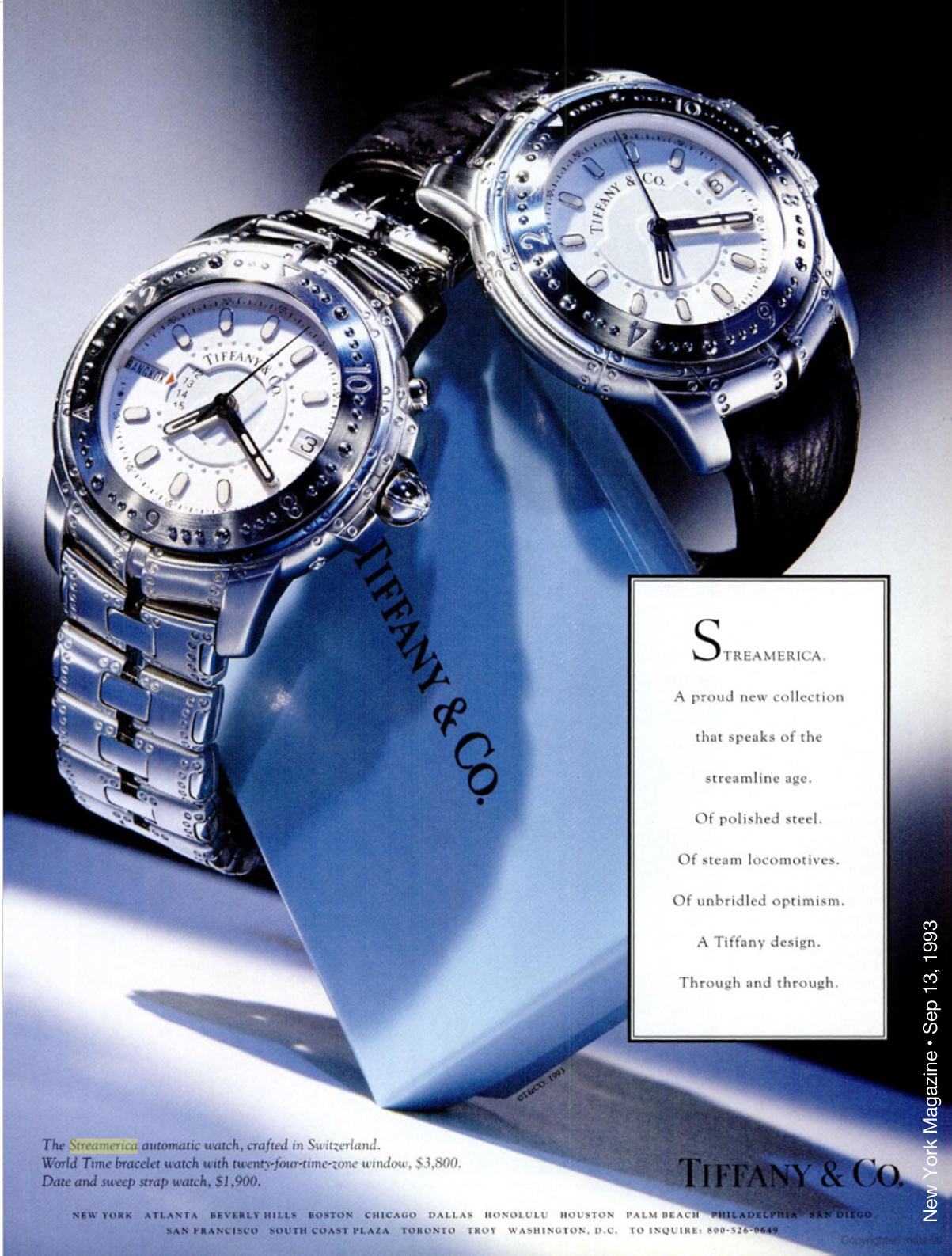 Original advertisement from Tiffany & Co. showcasing the two different models in their Streamerica line of watches. On the left, the all Stainless steel World Time Automatic Watch, and on the right, the Streamerica Automatic Chronometer with leather band.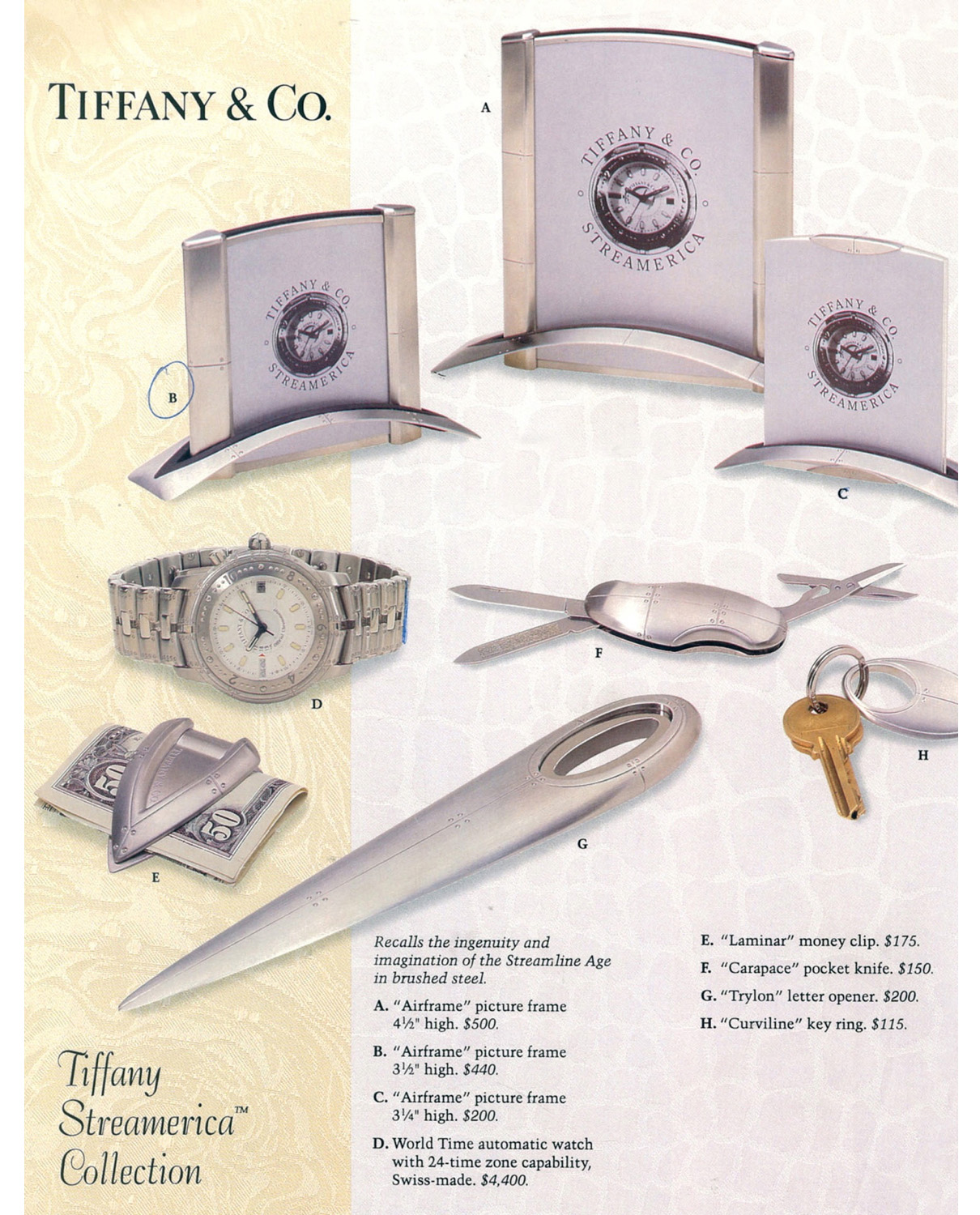 Page from a Yamrun jewelers catalog showcasing the Tiffany Streamerica Collection in 1993 in Stainless Steel.  Pictured here are the Airframe Picture Frames, The World Time Automatic Watch in all stainless steel, a smaller Carapace Pocket Knife, Laminar Money Clip, Trylon Letter Opener, and Curviline Key Ring, all with 1993 prices.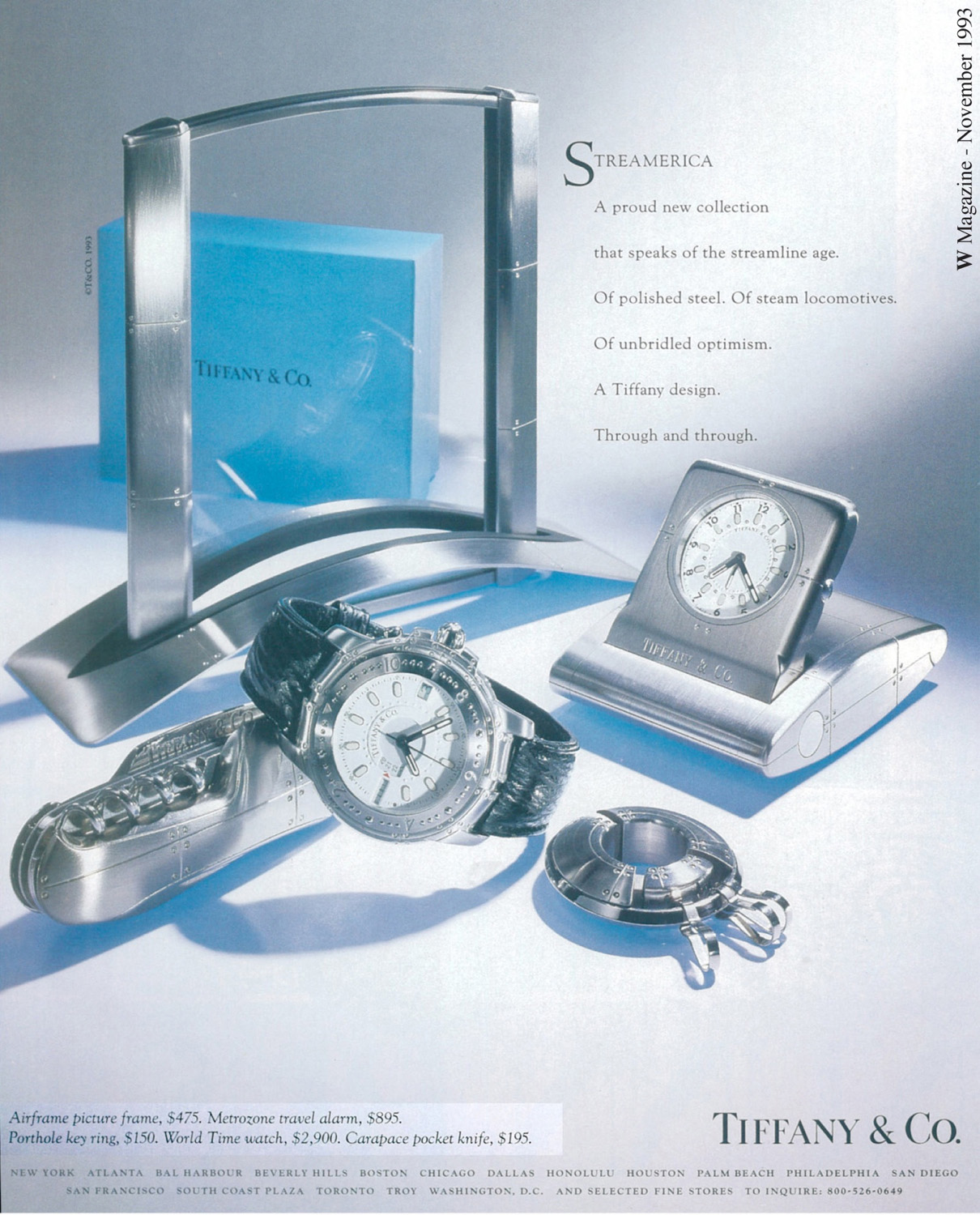 W Magazine Advertisement – Nov 1993 featuring the debut of the Streamerica Collection by Tiffany & Co. Pictured here are the Airframe Large Picture Frame, Carapace Pocket Knife, World time Watch, Metrozone Travel Alarm, and Porthole Key Ring.  The prices were added by me later.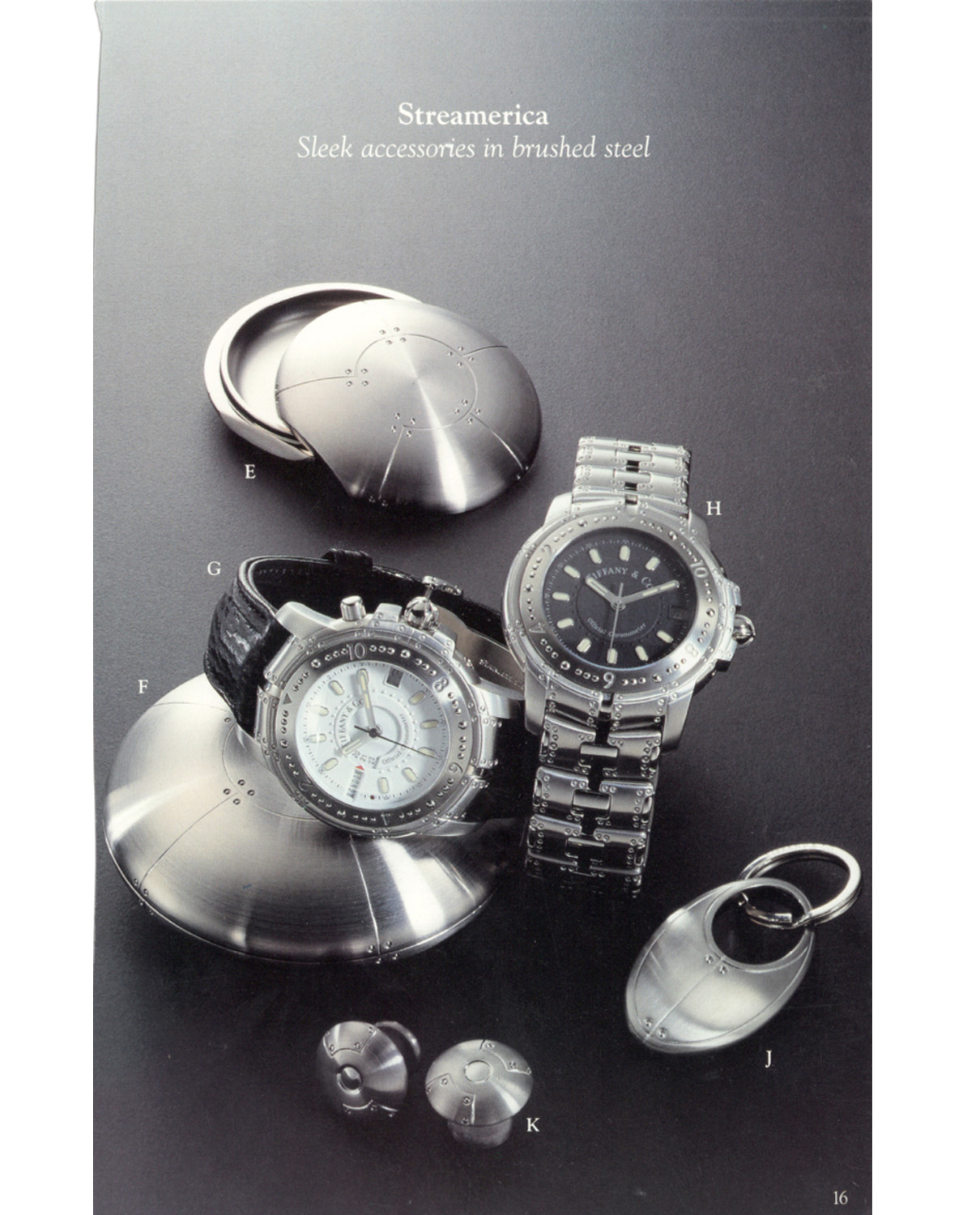 A page from a Tiffany & Co. Blue Book Catalog from the late 90's showcasing the Streamerica Stainless Steel Collection:
Two Perisphere Nesting Boxes, the World Timer Automatic Watch with white face and leather band, the Automatic Chronometer in all brushed steel band, the geodome cufflinks, and the Curviline key ring.
Each piece in the Streamerica line is designed to complement each other to form a cohesive statement in stainless steel. These accesories are meant to be used everyday to the users enjoyment.  
Any one of the Streamerica watches coordinates perfectly with the men's 18K white gold wide wedding ring, featured in the 18K Streamerica list.