Perisphere Nesting Boxes
Tiffany & Co. Streamerica Collection
Stainless Steel Desk Collection: paperweight
Releassed 1993
Swiss, Made in Switzerland.
Retail Price $— US dollars, varies by size.
Three sizes available.

small: 50mm / 2.0″ ?
medium: 63mm / 2.5″
large: 76mm / 3.0″
Tiffany & Co. introduced the Streamerica collection of personal accessories and watches in 1990 to celebrate the 50th anniversary of its New York headquarters.
Tiffany & Co.'s Streamerica is inspired by the aerodynamic principles of the 1939 New York World's Fair, the Streamlined designed collection evolved from the profile of a DC-3 wing and the bolted metal sheeting of airplane construction.  Steel and Industry symbolize America's aspirations for progress and prosperity.  A Timeless expression of Man's fascination with speed and technology – and his desire to forge a better tomorrow. 
The Perisphere Nesting Boxes are inspired by the Perisphere, a monumental modernistic structure made for the 1939 New York's World's Fair by architects Wallace Harrison and J. Andre Fouilhoux.
The name "Perisphere" was coined using the Greek prefix peri-, meaning "all around", "about", or "enclosing".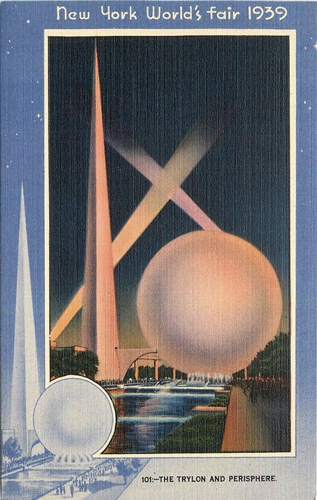 The Perisphere housed a diorama by Henry Dreyfuss called Democracity which, in keeping with the fair's theme "The World of Tomorrow", depicted a utopian city-of-the-future.
The interior display was viewed from above on a moving sidewalk, while a multi-image slide presentation was projected on the dome of the sphere.  
This is also used in Walt Disney World's World of Tomorrow section. 
I only have one of these Nesting Boxes sizes, so I am not 100% sure that they fit one inside the other, but I guess they would not be called nesting boxes if they didn't.
If any one has one of these I'd greatly appreciate it if you could send me your dimensions so I can identify the three sizes. Also if anyone has retail price on any of these, I assume they would have cost around $200 on average. 
From the photos below from Loring's book and Streamerica catalog of 1993, it makes me think that my size 63mm diameter (2.5″) is the medium sized box.  The cavity inside of this medium sized box is 50mm, so that might be the size of the smallest box (2″), and the size of the largest box would have to be around 70mm in diameter (3.0″), which has been confirmed by a seller on ebay.
These boxes have a pretty small cavity inside of them and are not the easiest thing to pry open, so to use them for paperclips and other small office supplies is pretty limited.  They do however make great paperweights since they are so heavy and just look awesome wherever you place them.
.
Detailed Photos of Streamerica Perisphere Nesting Boxes.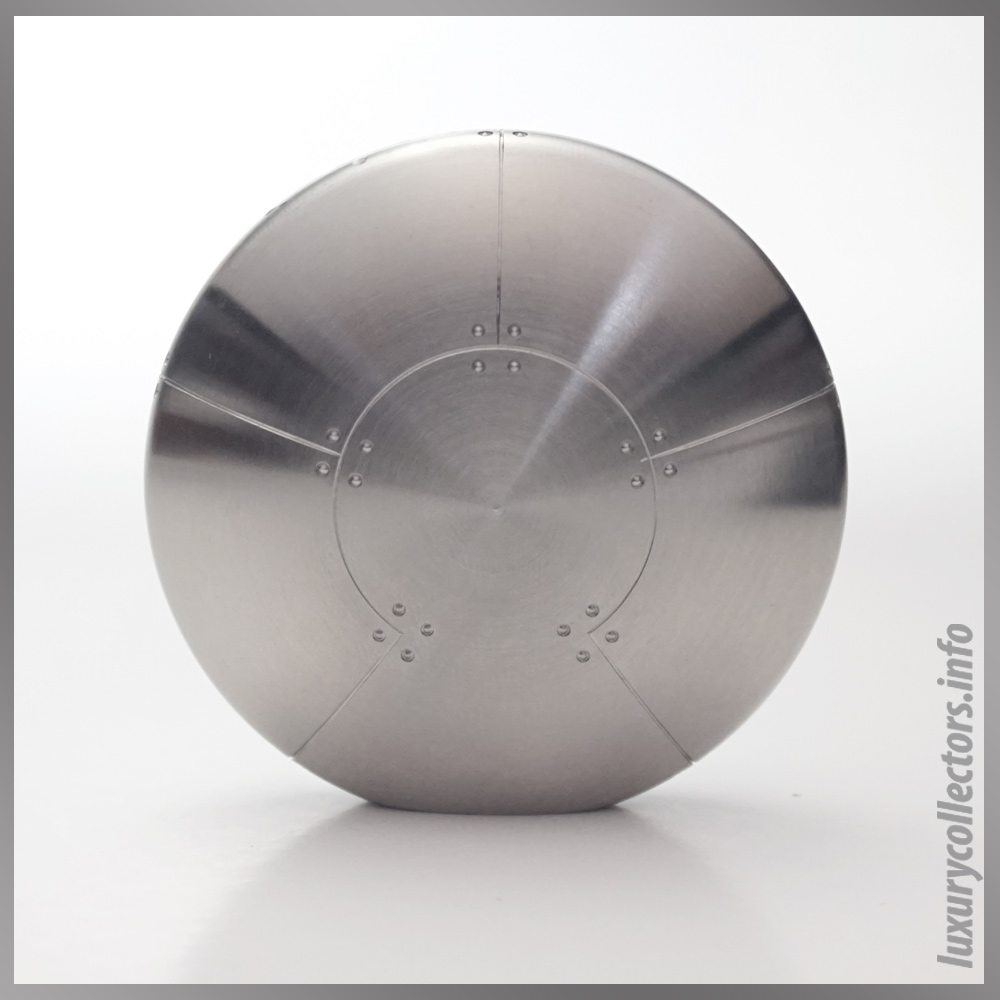 Side and Back view of the Calendar, at the bottom part there is a thicker single glass panel that holds the two top glass panels and cardboards in place.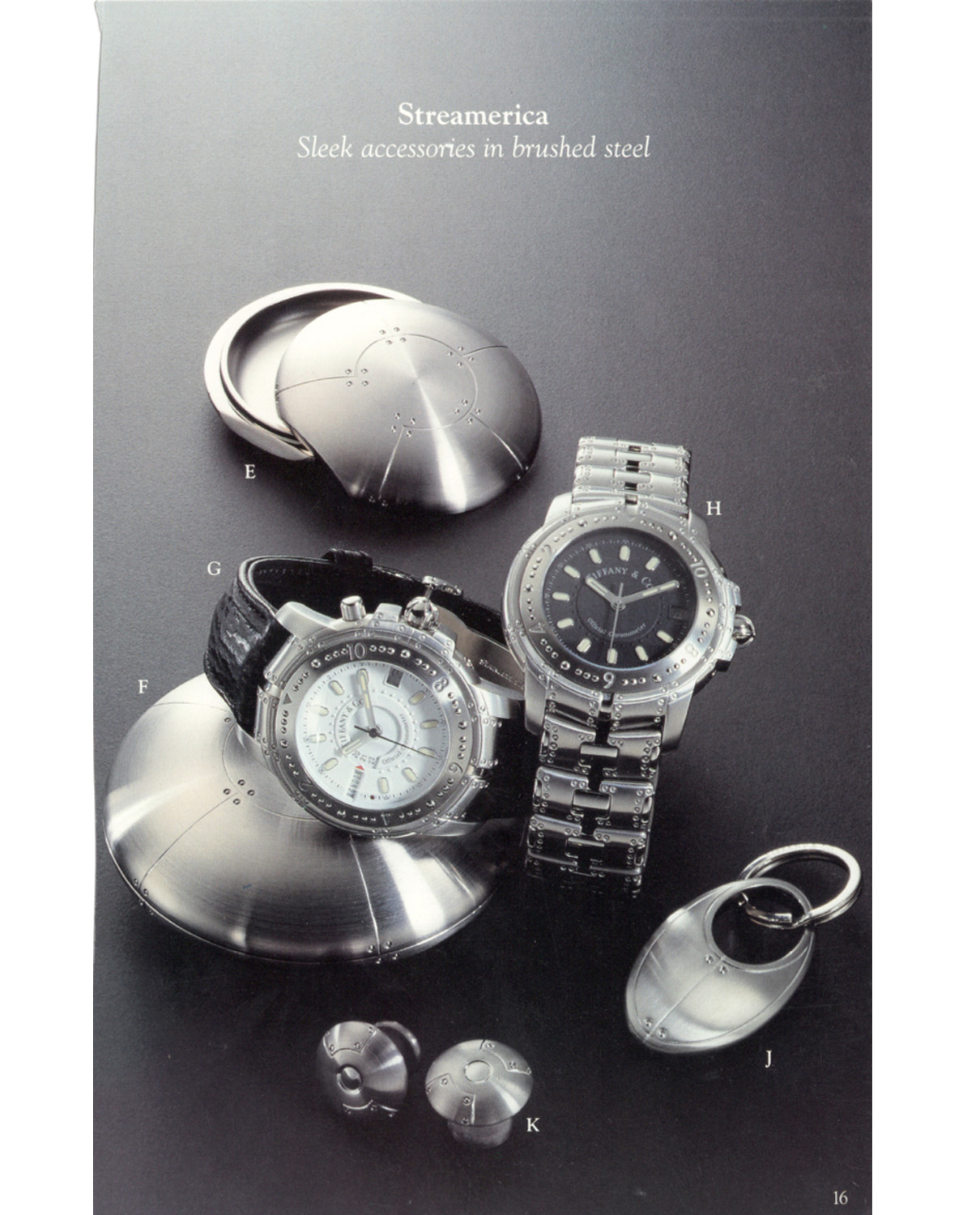 Page from Tiffany Blue Book Catalog. Sleek Accessories in Brushed Steel. Featuring two Perisphere Nesting Boxes, larger size and smaller, World time watch with leather band, Automatic Chronometer Steel Watch, Geodome Cufflinks, and Curviline Key Ring.
Each piece in the Streamerica line is designed to complement each other to form a cohesive statement in stainless steel. These accesories are meant to be used everyday to the users enjoyment.  This item looks ideal in an office setting.