18K Double Ring
Tiffany & Co. Streamerica Collection
18K White Gold – 6mm thick.
20 diamonds.
Dated 2000.
Retail Price $1,300 US dollars (in 2000).
$1,950 US dollars (in 2016).
Tiffany & Co.'s Streamerica in 18k is inspired by the 1930's Streamlined Design.  Proud structured metal surfaces with clean and slick lines.  A design motif that is pure Tiffany and simply beautiful. The woman's jewelry line was made in eighteen karat white gold instead of the men's stainless steel with diamonds instead of screws.  This Ring was released in 2000.
The other pieces in this line of 18K white gold with diamonds in streamerica are the three bracelets, earrings, two necklaces and two different widths of rings.  All in 18K white gold and diamonds.
The retail price for this ring in 2000 was $1,300.  I personally own this ring and use this ring as my wedding band and its great.  Over time the white gold coating starts to fade a little.  I took it to Tiffany and had it replated in white gold at some point and looks great.
It is stamped inside 2000 T&Co. 750 (Which represents 18K gold).
Each piece in the Streamerica line is designed to complement each other to form a cohesive statement in eighteen karat gold.
Until recently some of these pieces were still available at http://www.tiffany.com
Detailed Photos of Streamerica Wide 18K Gold Ring.
Here is a sampling of some of the printed pieces, advertisements, catalogs and website screenshots that show the Double Ring with original retail prices.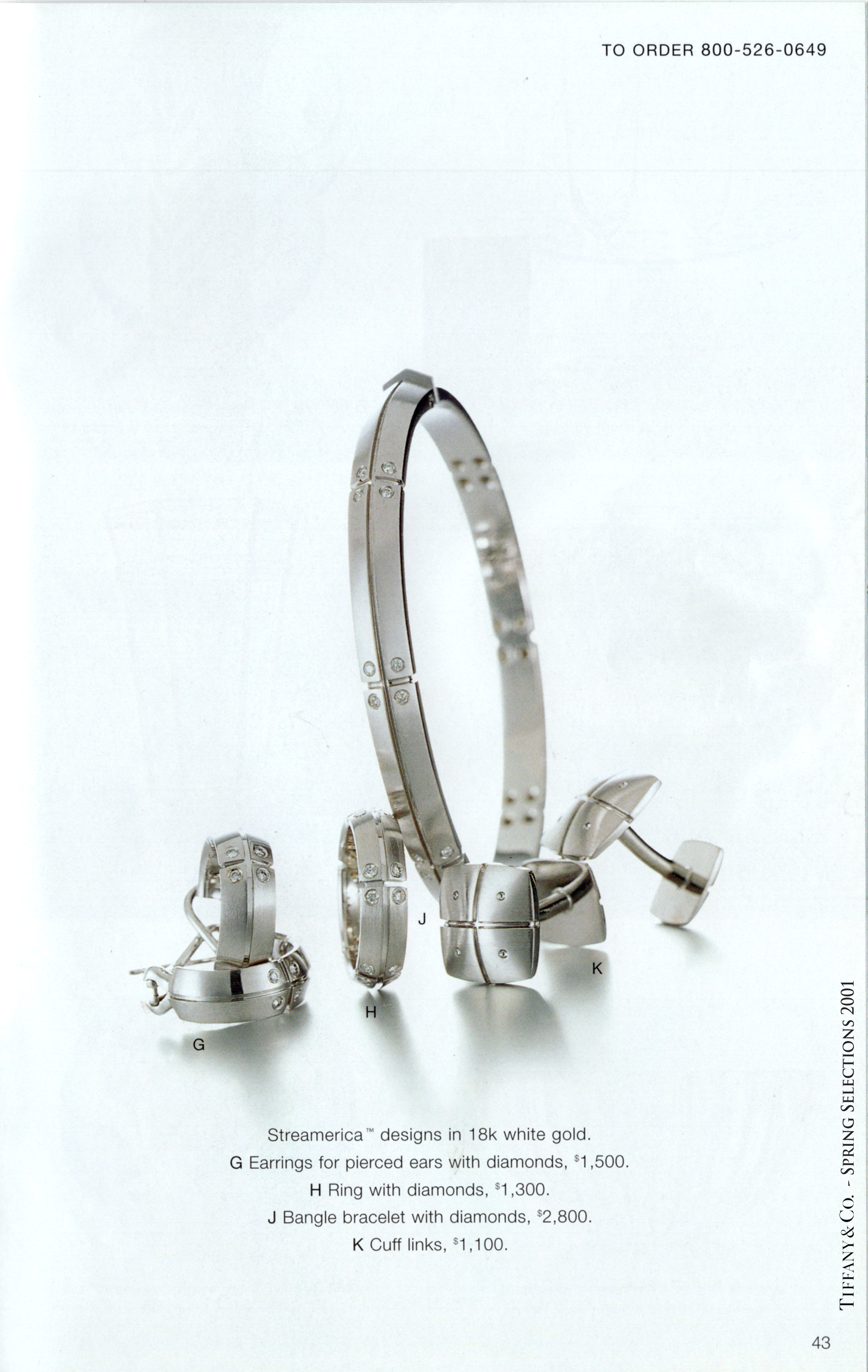 A page from Tiffany & Co. Spring Selections 2001 Catalog: Streamerica hoop earrings, double ring, bangle bracelet and cufflinks, all in 18K white gold.