Bvlgari Murano Carlo Moretti limited editions.
Bvlgari • Bulgari Parfums
1994
Murano, made in Venezia, Crystal and etched numbered and autographed bottle.
0.65 FL.OZ.
100 bottles made.
Sterling Silver stopper and neck made by Bvlgari.
Funnel is also made of Sterling Silver and stampmarked Bvlgari.
Retail Price $700 US dollars.
The Bvlgari Parfum fragrance contains notes of rosewood, Ylang-Ylang and orange blossom, then develops into an aroma of jasmine tea and sambac, finishing off with a scent of Grasse mimosa. It contains 20ml / .65 Fl. Oz. of the parfum.
Bvlgari created this bottle, crafted in Murano crystal by master-glass-makers from the antique and prestigious glass manufacturers Carlo Moretti, to further enhance the preciousness and exclusivity of its perfume.  The bottle's leather box may be used as a jewel-case.  This is a special limited and numbered series of 100 bottles.
This limited edition bottle not only has the flacon made of exquisite crystal by Murano glass maker Carlo Moretti, but also has the stopper made of Sterling Silver by Bvlgari.  This is the correct way of making a limited edition perfume bottle, specially if you are a jeweler.  This is the type of bottle that is basically signed by three companies: You have both signatures from Murano and Carlo Moretti with a very low count for a limited edition of this caliber, then you have the Bulgari stopper made out of sterling silver and properly housemarked on the side of the stopper.  I have also been able to confirm that the funnel that comes with this bottle is also made of Sterling Silver and comes with all the house's marks of .925, Made in Italy, and Bvlgari trademark.  The regular perfume that comes in a boxed set also brings a funnel, but made out of brass, which is also very nice.  As an added bonus you get a very nice leather box that can be used as a jewelry case, this alone would be worth around $250, if not more.  My sterling silver Bvlgari tea spoon set also came in a blue leather box like this that I use everyday to place accessories in.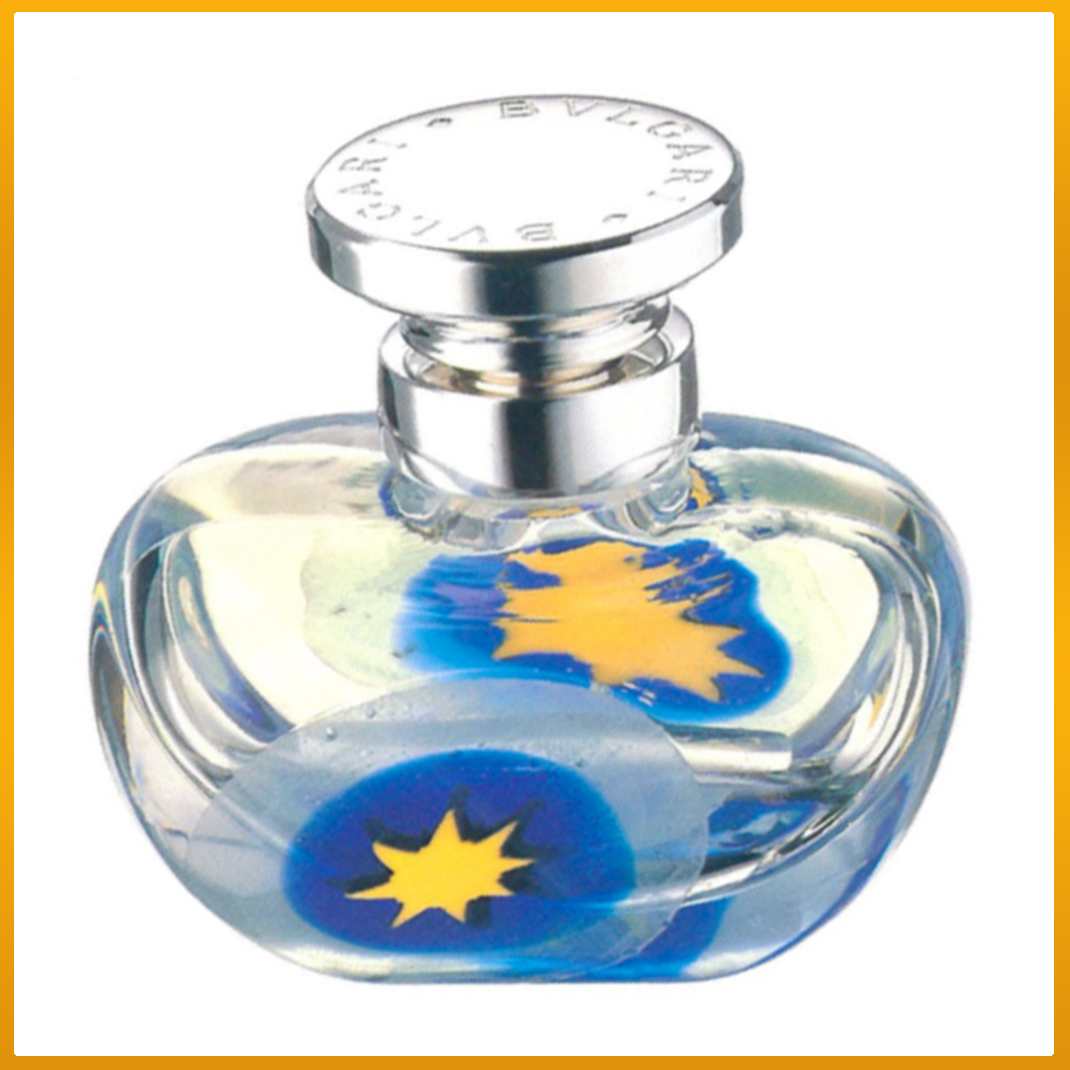 Bvlgari Bulgari Carlo Moretti Murano Glass Blue Yellow Sunburst Star Limited Edition Perfume Bottle.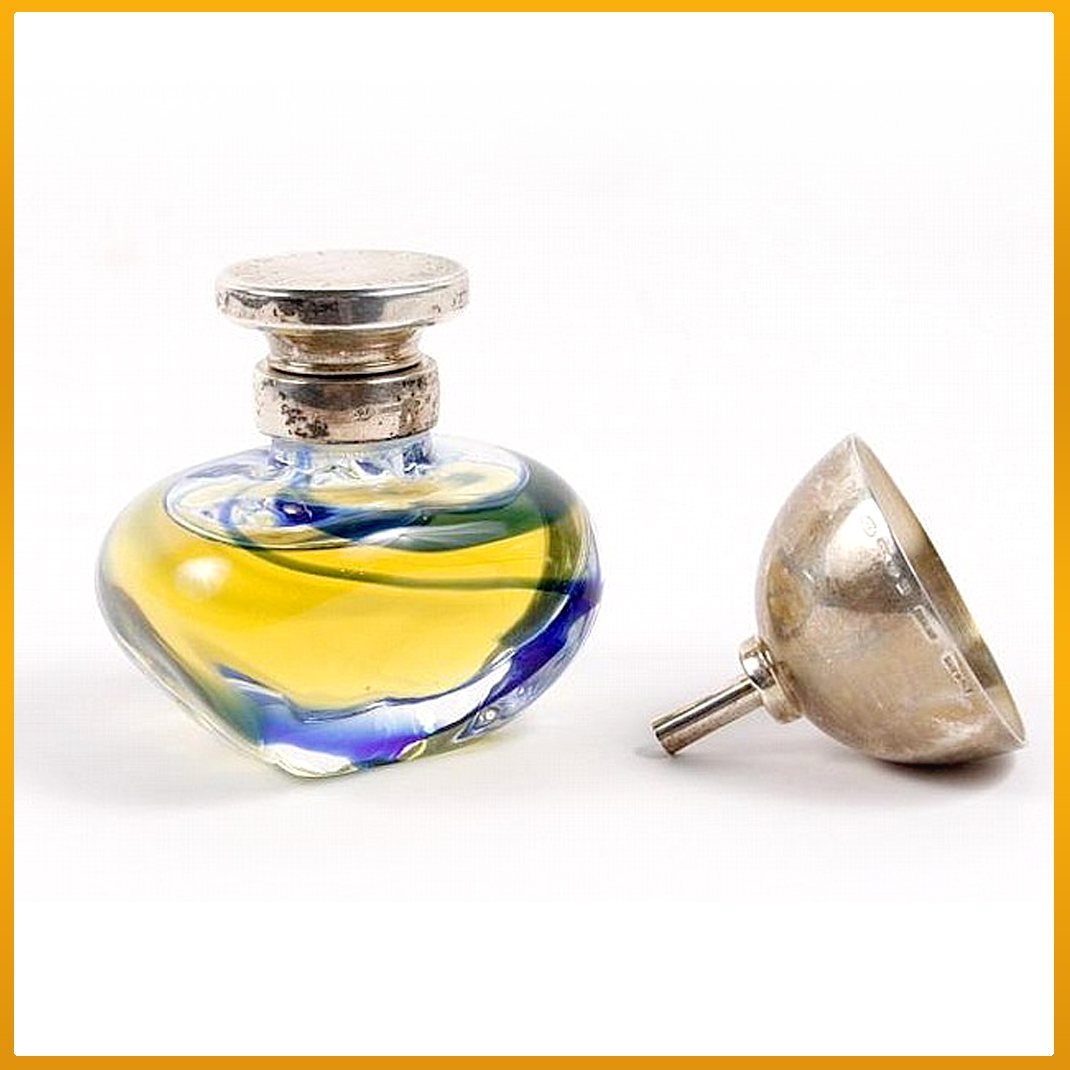 Bvlgari Bulgari Carlo Moretti Murano Glass Blue Swirl with Sterling Silver Funnel.  Photo:invaluable.com
Leather Jewelry Case presentation box.
I have rarely seen these on ebay or at the store in the 90's. The photos are from various 1995 Bulgari catalogs and a Neiman Marcus catalog from 1994. Just this month, in May 2017 two of these are featured on ebay.
The low number of the signed bottles I have seen on ebay indicate a run of only 100 bottles, this makes them extremely valuable for a collector and so does the sterling silver stopper.  I am not sure if each design was made in a run of 100 or if the whole Carlo Moretti Murano edition was of only 100 bottles.  I found two different bottle designs that had the same number etched in the bottom, 71/100, so this leads me to believe that they must have made 100 bottles of each design.  I also do not know how many different designs there are in this series.  I have found 8 designs online and in the catalogs.  If you have any other design, please let me know or share a photo of it so we can see how many different ones where made, thanks.
I have seen, in addition to the six ones pictured here:
an all clear crystal Harlequin pattern checkerboard in frosted and clear glass, on the bottom part of the bottle.

A swirl pattern of white glass mixed in with clear glass pattern.

A clear bottle with 3-4 colored (red, white, black) cubes mixed in with the glass.

A swirl pattern of Orange mixed in with the clear bottle, looks exactly like the one in the ad, but I can see no traces of red, only orange in the bottle.