Bulgari Bvlgari Silverware Cerniera Desk Set
Bvlgari Bulgari, Made in Italy.
1997
Ruler in Sterling Silver and vermeil.
Retail Price $330
Sterling Silver Letter Opener.
Retail Price $260
Sterling Silver Ashtray.
Retail Price $1,100
Bulgari Bvlgari Silverware Cerniera Bar Set
Bvlgari Bulgari, Made in Italy.
1997
Sterling Silver Bottle Opener.
Retail Price $200
Sterling Silver Corkscrew.
Retail Price $200
Sterling Silver Penholder.
Retail Price $1,600
Very rare and limited edition collection of fine housewares by Bulgari all done in fine brushed sterling silver.  This line of desk and bar accessories was manufactured before the collaboration between Rosenthal and this fine Italian jewelry house. 
The Bvlgari family original craft was silversmithing.  This tradition lives on in a series of hand-made precious objects for the contemporary home.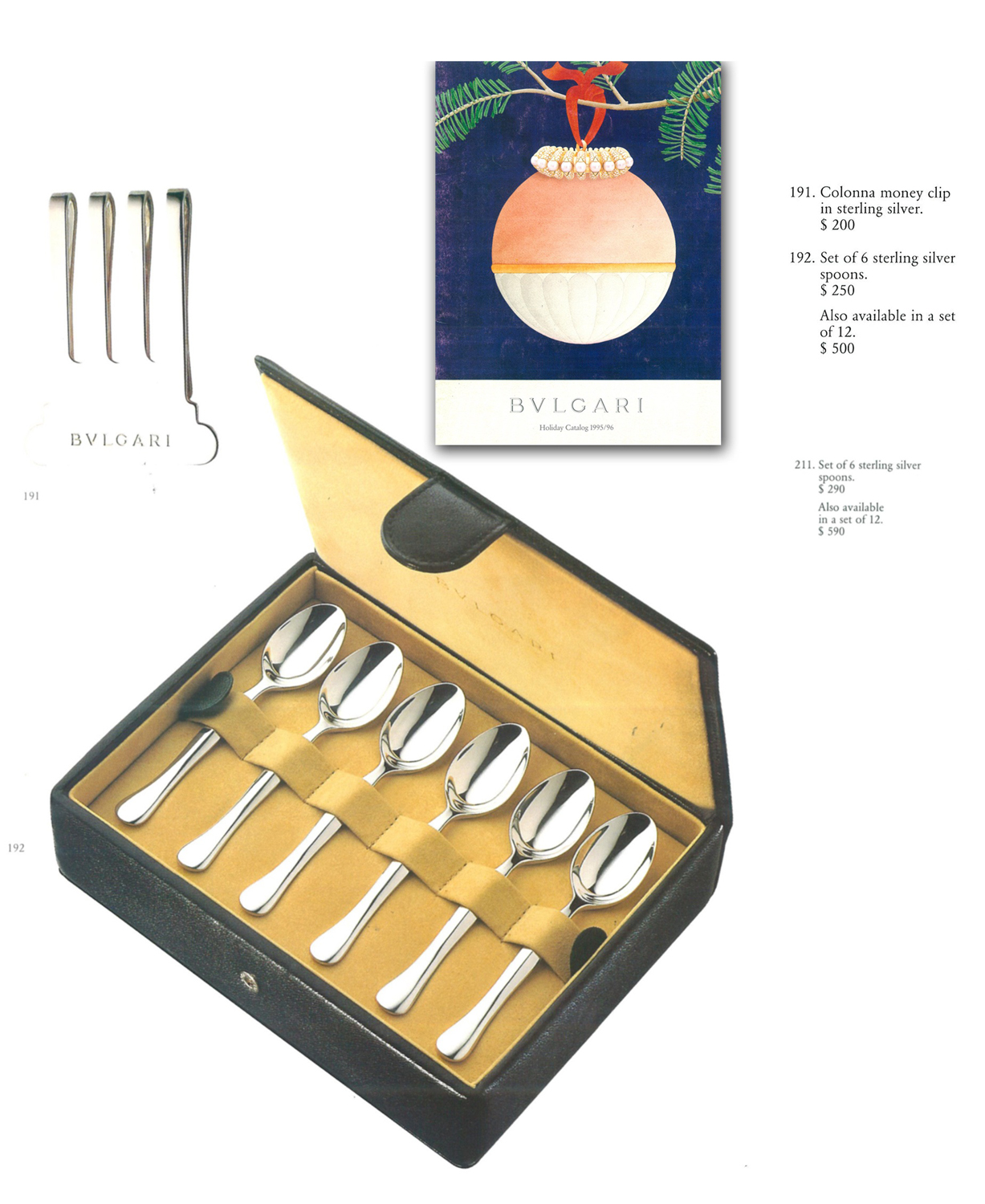 This page is from a 19963 Bvlgari catalog showcasing their best collections for jewelry and a few pages dedicated to their housewares.  This set of sterling silver spoons comes inside a beautiful blue leather box, which can be used as a jewelry box seperately, as I did for many years, with the Bvlgari name embossed on the lid.  Inside, its lined in suede like material and has a removable tray that holds the six spoons in place so that they do not scratch each other.  They make a great companion to Rosenthal line of fine china tea and coffee sets.  This retailed in 1996 for a decent price of $250 (the leather box alone is worth it), and next year the price had increased to $290 for the set of si spoons.  It was also available in a set of 12 spoons for $500 (in 19996) and then $590 (in 1997-1998).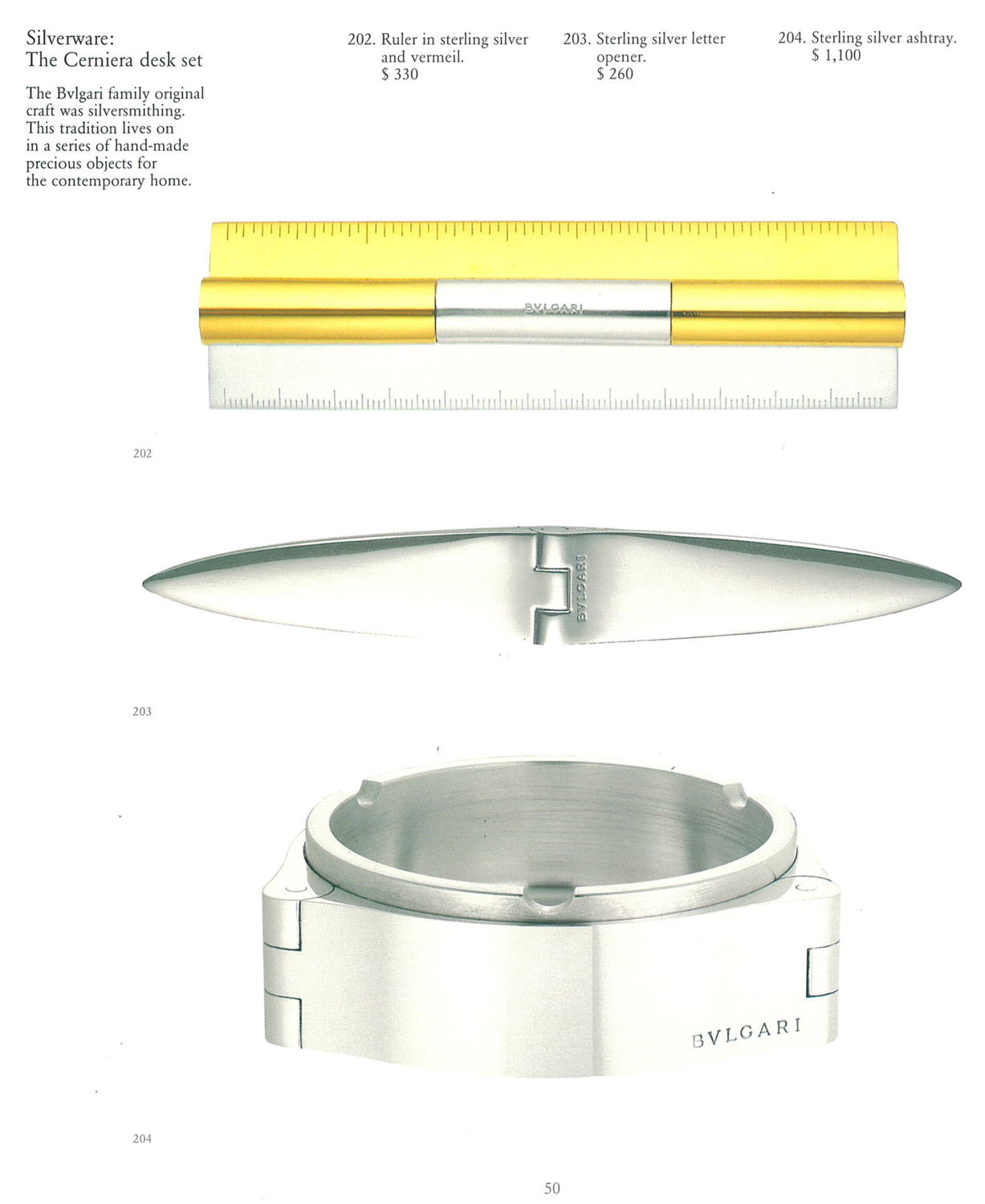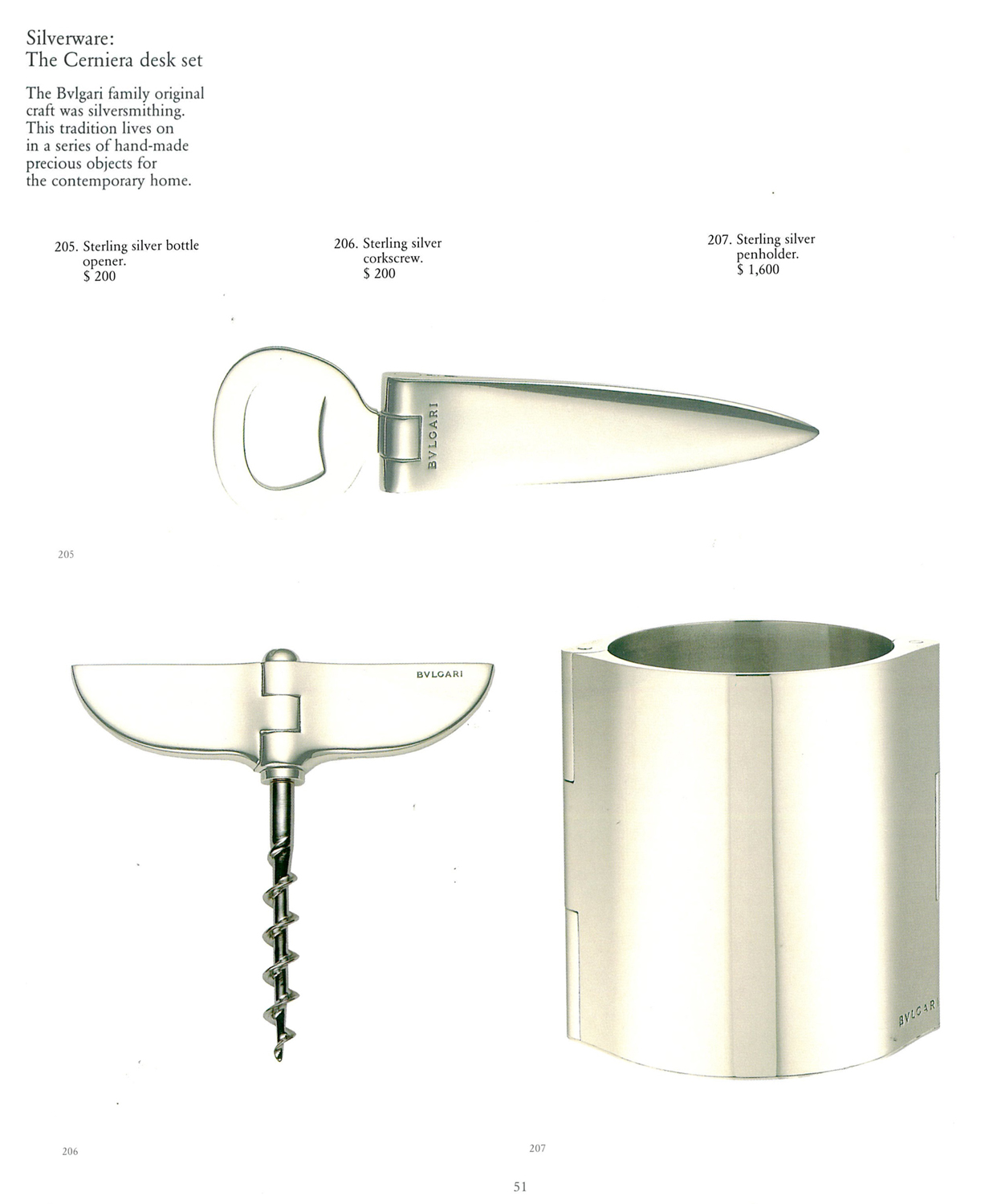 One of my favorite collections from the Rosenthal line is the Mediterranean inspired Itaca line.  This line originally included:
Bulgari Bvlgari Itaca Collection
Candleholder, Square
Candleholder Round Large Base
Candleholder Round Oval
Tray / Dish 11″ 28cm Large
Tray / Dish 7″ 18cm Medium
Tray / Dish 4″ 10cm Small, set of 4 ?
Vase 11″ (28cm)-  Retail Price $695.00
Vase 9 1/2″(24cm) – 

Retail Price 

$350.00
Vase 7″ (18cm) – 

Retail Price 

$295.00
Square Box with lid (angular)
Later on, I came across on ebay a secondary line of "unproduced" items from this line, that I was told was made as a test run, but that they never proceeded with manufacturing the complete run.  Most of them have imperfections, mainly in the gold paint, but they are hardly noticeable and highly sought after.
Bulgari Bvlgari Itaca Secondary Collection
Footed Small Cake Platter
Tray Rectangular 9″X 5.5″ (similar to Hermes Sushi trays)
Round Bowl no lid – 3.25″ wide x 2″ high
Plates, small cake or dessert
Cup & Saucers Coffee
Sugar Bowl with lid
Creamer
I will try and post all the photos of these items within this week.