Memo NOTE PAD
Tiffany & Co. Streamerica Collection
Sterling Silver.
Produced 2002.
Made in Spain.
Retail Price $200 US dollars?
Tiffany & Co.'s Streamerica in Sterling Silver is the third line of accesories inspired by the 1930's Streamlined Design. Proud structured metal surfaces with clean and slick lines. A design motif that is pure Tiffany and simply beautiful. Although this line centers around an office theme, there are some men's accesories that provide a "new" way of enjoying Tiffany's great line that had been discontinued for some years. After the initial launch of the stainless steel line in 1993, the design was passed on to the exclusive 18K gold collection in 2000. The sterling silver pieces date from 2002 and most were made in Spain.
These pieces in Sterling Silver were widely accessible due to their low prices. They were made to be used and enjoyed daily. The only downside to using these sterling products is that they are more maleable and get scratched a lot easier than their stainless steel or 18K gold items.
The last item that was still available for purchased in the US website of at http://www.tiffany.com was the magnifier in 2014 I believe.
Each piece in the Streamerica line is designed to complement each other to form a cohesive statement in sterling silver.
This sterling Memo Note Pad has been used constantly and is always on my desk. I have never tried to purchase note pad refill for this at Tiffany's since I used to have a printer that would make these for me. I will get back to you if Tiffany sells them and for how much. The note pad does not look that nice when its paper is half empty and also I did not like the perforation part of the refill, it did not tear off that smoothly. But, it still looks awesome on my desk!
This is one of the heavier items in the collection. It weighs in at x grams of solid sterling silver.
The underside has the markings: STREAMERICA 2002 TIFFANY & CO. 925 Spain. It's also crafted in Spain. The only thing I do not love about this sterling item is that it gets dirty easily and its not so easy to clean them.  The note pad which is hardly used, looks really beaten up and has water spots that I have been unable to polish or clean, due to its matte polished look. The grooves and the rivets are really hard to clean and polish and look somewhat dirty, even after polishing it.
Detailed Photos of Streamerica Sterling Silver Writing Note Pad Holder.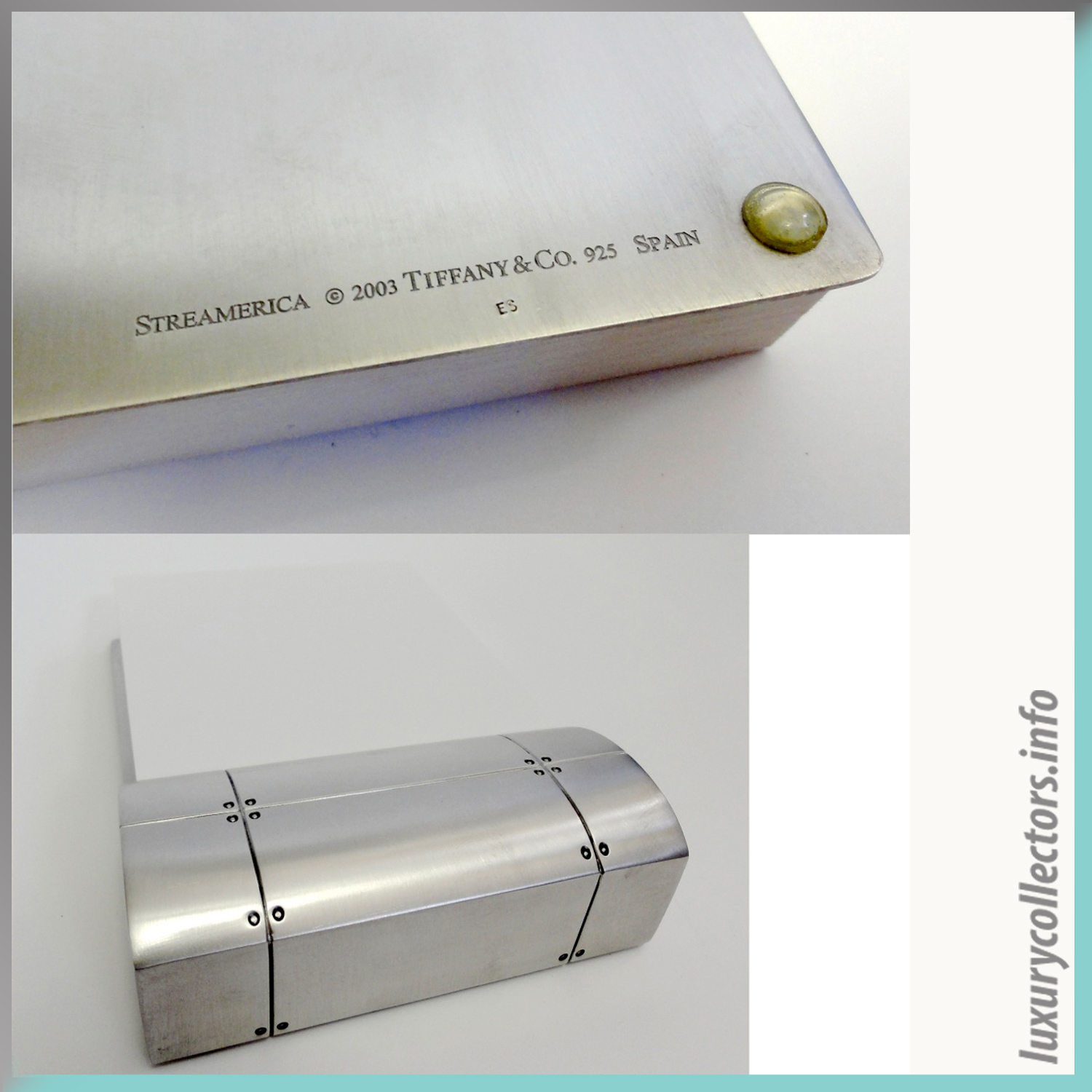 Detail of the markings :
STREAMERICA 2002 TIFFANY & CO. 925 Spain. Note that its also stamped with "ES" which I assume might be ESPAÑA?
Here is a sampling of some of the printed pieces, advertisements, catalogs and website screenshots that show the sterling silver line with original retail prices.  They are rare, since around this time Tiffany began to promote their website and online ordering and fewer printed catalogs have been produced.  I have rarely managed to get any of these sterling silver pieces in a printed catalog.
If you would like to share a photo or scan of any sterling streamerica catalog items, please send them to me, thanks, so I can post them here
This ad below here is for a similar memo note pad from Tiffany & Co. from their "1837" collection, but it looks like the backing is made out of leather and just the clip part is made from sterling silver, so the price of the streamerica should be substantially higher, but I have not seen its price on any catalog.